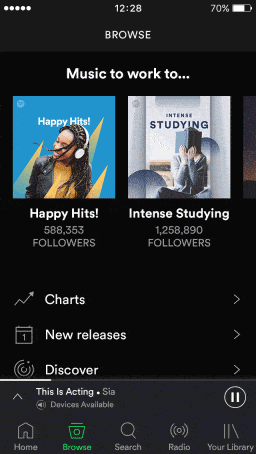 Spotify Connect is a feature that until now, has been available only to Spotify Premium members. That means that those who use the ad-supported version of the music streamer were not allowed to use it. But Spotify announced today that this restriction has been lifted. First, we should tell you about Spotify Connect. This allows you to use the Spotify app as a remote to play and control music over another Spotify enabled device like a smart speaker or a laptop.
Spotify says that there are three simple steps you need to take to use Spotify Connect (view the GIF at the top of this article). The three include:
Open the Spotify app on your phone, laptop or tablet.Play a song and click on Devices Available.Select your device and start listening to Spotify.Starting today, an update to Spotify's Commercial Partners' SDK will allow these companies to enable their devices to run Connect for both free and Premium Spotify subscribers. Free users will still face several restrictions, including a limit on the number of songs they can skip each hour; free users will still be unable to download music. Spotify has been adding new capabilities to this ad-supported tier, hoping that enough free Spotify users are so impressed with the service that they sign up for the Premium service.
"The release of our new eSDK will change the game for Spotify's Free users who want to enjoy music on their connected speakers. We look forward to supporting our partners over the coming months as they update existing speakers and bring new products to market."-Mikael Ericsson, senior product director, Spotify
The company has yet to report a profit for any quarter, and during the period from July-September it reported a €6 million ($6.8 million) operating loss as it moves closer to being in the black. During that three month period, Spotify had 87 million Premium customers compared to the 104 million who use the free tier of service. The music streamer will be happy if it can sign up a small percentage of these users for the Premium tier each quarter.